https://www.eventbrite.com/e/council-of-elders-a-virtual-roundtable-tickets-134038921021
A Roundtable discussion with movement elders from the Hudson Valley on activism, solidarity and the political divide.
About this Event
Join movement elders from the Hudson Valley for a conversation about the present moment, and stories and wisdom from the past. How do we ground ourselves in the new year? How do we build coalitions in solidarity with others across political divides while staying accountable to ourselves and all people most directly impacted by systemic oppression?
The council includes leaders from local African Roots Libraries, ENJAN, and the NAACP, Restorative Justice practitioners and long-time activists and organizers in Labor, Environmental Justice, LGBTQIA Rights, Antiracism and Civil Rights movements.
Moderated by: Tracy Givens-Hunter
Elders: Maude Bruce, Paul Bermanzohn, Sally Bermanzohn, Otia Lee, Denise Oliver-Velez, Sandra Oxford , Rob Pinto, Loriman Rhodell , Cheryl Schneider, Odell Winfield
Who we are: https://www.holdthelinehv.com/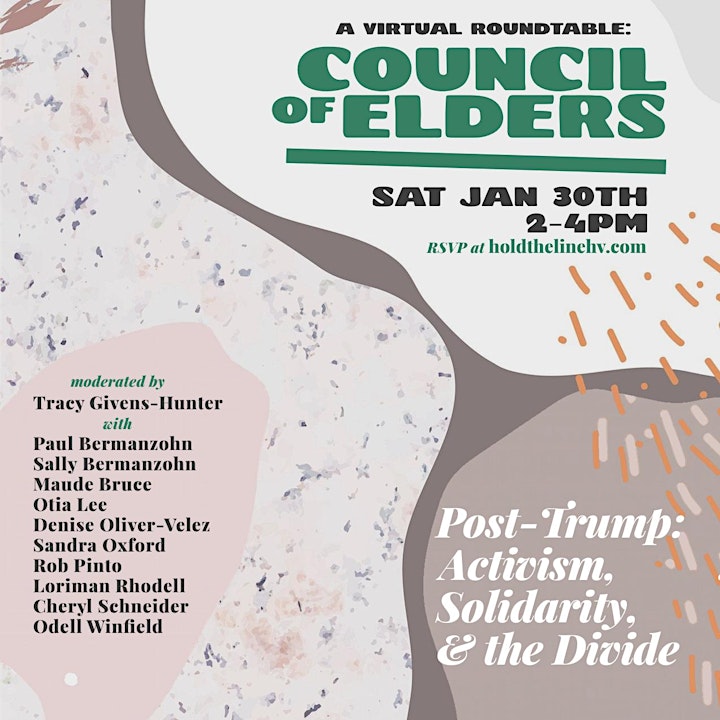 Date and Time
Sat, January 30, 2021
2:00 PM – 4:00 PM EST